Full Program
»
Optional Social Event - Bioluminescent Bay
Friday, 7 December 2018
16:00 - 21:00 (First Trip)
18:30 - 23:30 (Second Trip)
Lobby
Evening Kayaking Adventure – Bioluminescent Bay @ Las Cabezas de San Juan Nature Reserve
Looking for something to do Friday night after the conference and the outing to Arecibo? Sign up for a two-hour kayaking trip on the bioluminescent bay - an unforgettable outing about an hour from San Juan. To join the outing, contact Kayaking Puerto Rico at 787-435-1665. The kayaking fee is $48+tax+fees. Be sure to say you're part of the Northeast Transportation group. This will also sign you up for bus transportation to/from the hotel (by minibus or bus, depending on the number of signups), which is an additional $25 (must be paid in cash). If you're going on the Arecibo tour, sign up for the second pickup - Arecibo bus will return about 5:30pm
---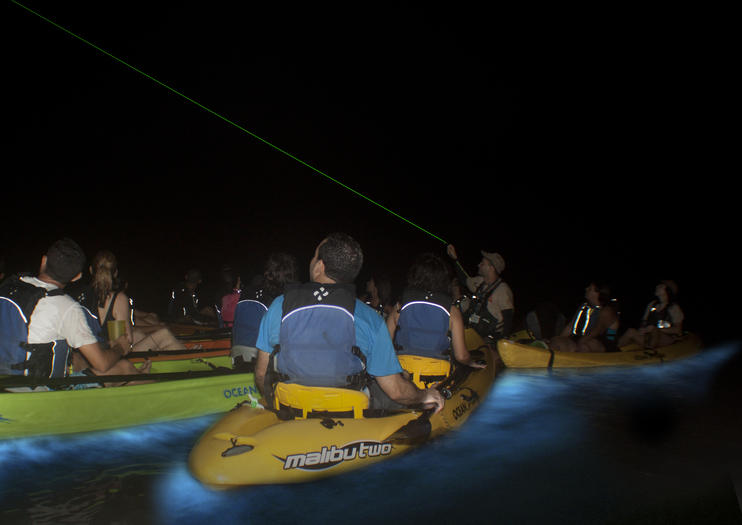 Enjoy a two-hour adventure in one of Puerto Rico's three bioluminescent bays. Experienced guides will take you on a smooth kayaking trip inside Las Cabezas de San Juan Nature Reserve's lagoon, where the magic happens. As you paddle across the lagoon single-celled dinoflagellate organisms will illuminate the water making your stroll through the lagoon an unforgettable experience
Duration: 2 hours (plus approx. 2 hours round trip transfer from Condado Plaza to Fajardo)
Age restrictions: 6 years and older (under 18 must be accompanied by an adult)
Weight limit: 285 pounds per person / 485 pounds per kayak
Not recommended for guests with: Epilepsy, back problems, heart conditions, dizziness, recent surgery. Pregnant women cannot participate.
What to wear: Swimsuit, water shoes, shorts, t-shirt (bring an extra set of dry clothes and a towel)
Do not bring: Valuables, camera, personal items that cannot get wet, bug repellent (ecofriendly repellent will be provided on site).
First Trip
Pick up time: 4:00pm
Arrive Location: 5:00pm – Check-in
Kayaking Tour begins – 5:30pm
Kayaking Tour Ends – 7:30pm
Depart back to hotel – 8:00pm
Arrive at hotel – 9:00pm
Second Trip
Pick up time: 6:30pm
Arrive Location: 7:30pm – Check-in
Kayaking Tour begins – 8:00pm
Kayaking Tour Ends – 10:00pm
Depart back to hotel – 10:30pm
Arrive at hotel – 11:30pm